"I shall be miserable if I have not an excellent library." – Jane Austen
1. I Know Why the Caged Bird Sings by Maya Angelou: If you want to read a book by Angelou, let it be this one. She writes about her difficult childhood, working with Martin Luther King Jr, the multifaceted relationship with her mother, and her unorthodox friendship with Billy Holiday. Oh, so scandalous! After reading Caged Bird, I guarantee you'll be addicted forever to Angelou's voice.

2. Lolita by Vladimir Nabokov: Written in 1955, this classic novel is about a middle aged man obsessed with his 12 year old step daughter. Humpert Humbert is a pedophile-pig, a devil incarnate— but Nabrokov makes us care about him, feel sorry for him, even sort of like him. This book cannot be rated because of it brilliancy. Gorgeous, Stunning language. At the VERY top of my list.
3. The 15 Second Rule by Mel Robbins: "You need to hear this loud and clear; no one is coming. It is up to you." This is a quote from Mel Robbins book, The 15 Second Rule. This book pushes you from your comfort zone & off your ass into the true 'meaning of your life.' Highly recommended for every procrastinator pondering her/his purpose.
4. The Handmaid's Tale by Margaret Atwood: A popular novel, which explores an extensive range of issues relating to power, gender, sex, and religious politics. Atwood originally wrote this as a science fiction piece, but if one observes the state of the world today, it's becoming clear that these things are happening already. I cannot begin to tell you how much I loved this book.
5. The Unabridged Journals of Sylvia Plath by Sylvia Plath: "I love people. Everybody. I love them, I think, as a stamp collector loves his collection. Every story, every incident, every bit of conversation is raw material for me." Plath's words are dark, beautiful, suicidal, powerful, wretched, humorous, uncontrolled, and soak into one's bones like something unforgettable. She is the reason I became a writer.
6. Pull of the Moon by Elizabeth Berg: I've devoured every book by Berg, but Pull of The Moon is my all-time favorite. A 40ish woman decides to run away from home. During her travels, she writes letters to her husband: "I don't mean this to be against you. I don't mean any of it to be against you. Or even about you. I have felt for so long like I am drowning." A beautiful, moving novel about being lost and found again. Berg rarely disappoints.
7. The Absolute True Diary of a Part-Time Indian by Sherman Alexie: I've read this book two times and listened to the audio once. Alexie writes about 14 year old Junior, whom lives on the Spokane Indian Reservation. He writes about how alcoholism killed most of his family, how he needed to leave the Rez to become who he wanted to be, and he writes about how books transformed his entire existence. Alexie has been applauded by many for this Newberry winner, but others have condemned him for it. A controversial piece of art.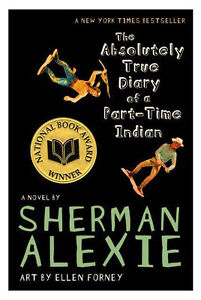 8. Big Magic by Elizabeth Gilbert: Just when you assume Gilbert cannot possibly surpass Eat, Pray, Love, she writes Big Magic! Gilbert asks–"So this, I believe, is the central question upon which all creative living hinges: Do you have the courage to bring forth the treasures that are hidden within you?" I'd LOVE to sit w/ Gilbert over a glass of wine and talk about deep shit, about words, about Bali!
9. Scared Selfless: A Journey from Abuse & Madness to Surviving and Thriving by Michelle Stevens: Recommended by Dr. Phil: Stevens walked thru Hell on earth & unimaginable sexual abuse, but comes out the other side to become who she was meant to be. People Magazine calls Scared Selfless a "testament to hope." It's a tough read, but highly recommend for all social workers, psychologists, sociologist, teachers, and everybody in the mental health field. It's about "RISING." It's about finding the flickers of light after living in darkness.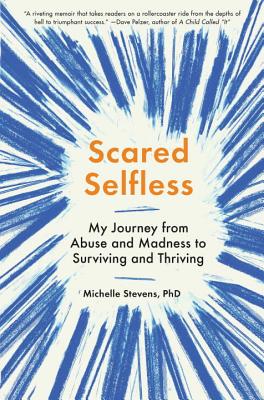 10. Furiously Happy: A Funny Book About Horrible Things by Jenny Lawson: #1 New York Times bestselling author Jenny Lawson explores her lifelong battle with mental illness, but if you assume this is a book about sadness and feeling sorry for yourself, you'll be quite displeased. I walked while Lawson read to me. What luxury! What fabulousness! I laughed my ass off for ten miles strait; I think my neighbors thought I was nuts! 
11. Eleanor Oliphant is Completely Fine by Gail Honeyman: OMG! I added this novel at the last moment because I simply had to tell you about it, about Eleanor. She has secrets, several dark secrets & they unfold slowly, sadly, beautifully throughout each chapter. She is peculiar; I would go as far to say that she may have Asperger's Syndrome, OR at the very least was scarred horribly by her Mummy, whom she talks lovingly about thru the entire narrative. I looooooved this book, the characters, the story-line, and especially, Eleanor. Moreover, I appreciated the physiological aspect unraveling as the reader finds out why Ele
anor is the way she is. One of my favorite books of the year!
LOLITA: Listen to Iron's Gorgeous Voice. What a treat.
—And some of your faves are?
Subscribe To My Inner Chick
Never miss an update!