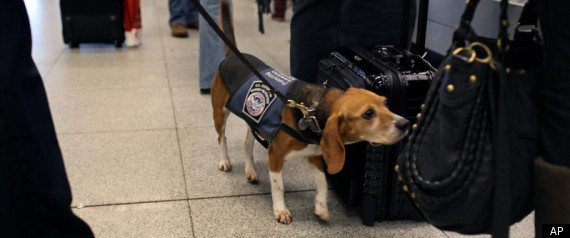 Photo by Meghan Barr.
(( Picture it.))
We're leaving London
and the lines are merging round baggage claim like a multi colored snake on
smack.
Why the hell do people dress up nicely to fly?  They are only going to get wrinkled,
crinkled, smelly, and ugly anyhow.
We're standing in line.
The crazy twisting disquieting eternity of a  line.
Passports, boarding passes, carry on bags, lotions in
plastic, and Mr. Liverpool needs to show his green card since he is termed an "Alien."
Half way through the grueling process, a police officer edges
into the winding line with this little mutt of a dog.
His black and white tail is wagging wildly and you can tell
he loves his job, wants to kick some passenger ass.
Suddenly, I get an image of that movie, Midnight Express,
where the Turkish police find hashish on this dude and triple hell breaks
loose.  He ends up in a Turkish prison
for most of his adult life.
Horrendous.
Frightening.
So, this little mutt is sniffing luggage, carry on bags,
purses, feet…
He is smelling his way round the endless lines seeking out hashish
& bad stuff that passengers should not be bringing on airplanes or
anywhere.
Everybody gets a big giggle out of the little mutt.
Isn't he cute?  Isn't
he adorable?  I wonder how much he gets
paid for sniffing?
After half an hour, he makes his way toward us.
Sniff.  Wag.  Sniff.
Then he begins circling round my carry on bag like he has
mad cow disease.
"What you have in there?"
The police officer asks snottily.
I unzip my bag.
"Nothing."  I say.
"What's that?"   He points.
Shit.  Shit.  Daaaaamn It.
I'm such a dork.
"H-h-half a sandwich."
I mutter idiotically, terrifyingly.
"Does it have meat in it?"
"No,  just avocado.  Oh, yeah, and some lettuce."
I wonder why he wants to know.
"I have to confiscate that, Miss."  "He stands with his hands crossed over his chest.  "Now."
I observe Mr. Liverpool shaking his head from the corner of
my eye & hear my son whisper to my other son–
"It just had to be mom, didn't it?"
The officer scribbles something about the sandwich on my
boarding pass and all of us end up in a back room where the bad people go
because every single piece of our luggage needs to be x-rayed now.
Perhaps they presume I have more avocado sandwiches, or god
forbid,  bologna sandwiches.
Mr.  Liverpool
is still shaking his head right to left—left to right.
"It had to be you." He says again.
"Don't say one more word."
I warn.  "Not one more solitary
word."
After an hour, we're allowed back into line with the other
law abiding citizens.
I notice the little mutt is jumping up and down the police
officer's leg because my avocado sandwich is sticking out of his pocket.
"I bet I know what he's having for dinner tonight."  My son laughs,  nudging me.
Moral to the story: Don't save the other half of your sandwich
until later.  Eat it all.  Savor it all.
Love it all.  Life is too short,
dumb ass
—Darling Reader,  have you had any embarassing incidents like this?  Do tell.
xxxx
NOTE:  Kay's Walk To End Domestic Violence will be on Sat.  June 1st @ 11:00  on the Waterfront Trail.
or contact me personally to donate siammuse@msn.com
Subscribe To My Inner Chick
Never miss an update!