—-I'm beautiful in my own way because GOD made NO mistakes—Lady Gaga
—I've always been fervently attracted to women who stir
things up.  The nonconformists, the rebel
bitches, the Goths, the women who are off their
bloody rockers by traditional standards.
Janis Joblin  Inkfrog.
Other revolutionaries merely see themselves in these women,
not what an established, dull, society perceives.
I never wanted to be a flat paper doll cutout.  Did you?
I'm intrigued by women who fix their hair in beehives, have
Japanese tattoos, dress up in fabulous feathered Cher outfits, and wear cone
bras with black veils with lace undies.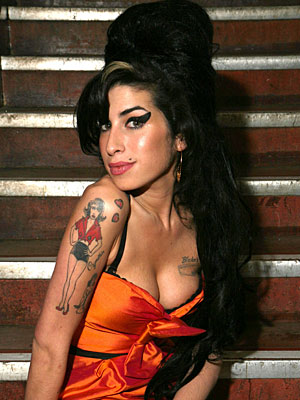 Amy Winehouse
Women who know how to express themselves fully, and by doing
so, express part of who we are, as well.
Annie Lamott
I remember seeing Madonna on Bandstand in 1980
something.  When Dick Clark asked her
what she wanted to do with her life.  She
answered coolly and confidently and magnificently- "I want to rule the world."

Madonna
I knew then.  Exactly
then.  At that very moment.  That's what I wanted, as well.   The only difference is– I would have said
"I want to change the world."
The writers, poets, painters, sculptors, singers, jazzers,
reflectors, transformers, believers.

Yes, these are the kind of
women who change the world & make us observe things from another
interesting, sometimes uncomfortable angle.
One of my favorite wild women nowadays is Lady Gaga.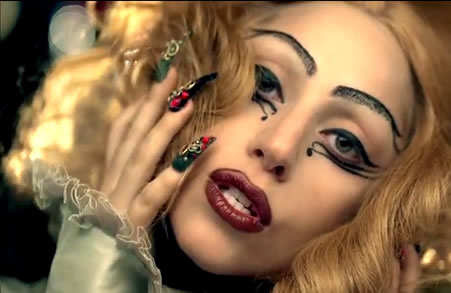 She will not go unnoticed with her bubble wrap, red laced
swathe, disco helmet, and meat dress. And with so many artists who'd love to collaborate
with Lady Gaga, I don't see her losing steam anytime soon.
It's all utterly grandiose and flamboyant.  It's all about expressing our insides on the
outside.
But women like Lady Gaga recognize that it's so much more
than doily outfits and net masks.
It's about making a difference and  rising up when other people cannot.
It's about making our voices heard.   ((( H E A R D )))
It's about screaming out,
"YOU ARE  ENOUGH!"
It's about saying, "I hear you.  I see you.
You are not alone."
I have a long list of these badly behaved women whom I
admire.  All of them are unique, unusual,
untamed… but in complete control.
Dear Reader,   What kind of woman are you?
xxxxxxx
Subscribe To My Inner Chick
Never miss an update!