——I LOATHE—–
1.   Haters
Haters are individuals with too much time on their hands.
They get an electrical charge out of posting nasty comments (anonymously, of course)  on several blog posts.  
These bitches love to inform you (anonymously, of course) that you are dull, utilize too much profanity, and that your grammar is appallingly inexcusable.
Haters are bullies, whom unfortunately, cannot even look at themselves in the mirror.
2.   Queens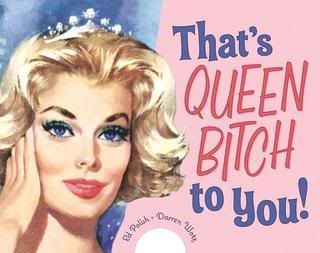 These chicks are bloggesses who expect you to read their blogs, but will NEVER acknowledge the ground you walk on.
They would snub you on the street & tell you your hair was ugly!
They are narcissistic and write excessively about how astonishing they are.
Queens write their blog posts wearing diamond studded fake tiaras.
Because nothing about them is real….Not even their Boobies.
3.   Travelers
Travelers are seldom at home.
When readers click onto their blogs, typically they are re-directed to another area where they're guest posting.
Click here.     Click there. 
I'm sorry, but when you're not home, I usually don't have time to visit you at the neighbor's house.   
Even if you're offering chocolate.
4.    Skimmer 
Skimmers skim.
The skimmer will skip and scan thru a blog quickly.
And then reply in the wrong context.
For example, recently I read a post about a pet dog that had died.  Utterly sad.  I mean, damn heartbreaking. 
The skimmer had LOL within her comment.  WTF?
Read the entire blog-post, idiot!
—– I  LOVE—–
5.     Authenticity
Raw.    Real.   Gutsy.
The authenticity bloggers "Give Good Voice."
These bloggers present the readers with all of their dirty laundry without apology.
They even leave the shit stains inside the undies.
6.     Generosity
These writers  melt my heart;  make me looooove them.
They comment on your comments, reply to your blogs, and even tweet your blog posts.
I want to be like them when I grow up!
You all know who you are.  Don't you?
7.    Crazies
I adore crazy, eccentric writers.
The Bikers.  The Goths.  The Heavy Metals. The Lost.  The Unusual.
Everything they write flows from the core & essence of who they are.
8.    Content
 Without kick ass delicious content…
You Have Nothing.
No blog at all.
Kiss your ass goodbye.
The ultimate blogger offers amazing content that gives the readers something to chew on, think about, ponder, laugh over, love, & powerful words to awaken the soul.
—You, my dears,  inspire me.
~~~~Dear, Reader,  What are some of your loves and loathes about blogs & blogging?
Subscribe To My Inner Chick
Never miss an update!