1.   Because you insert a required login before people can make a comment.   And to make the visitor feel more idiotic & unintelligent, you add a puzzle like this:
(I hAAAAAATE these UUuugly things)  What's with the lines?)
2.   Because when I subscribe to your blog,  I want to hear your voice, your  bitching story …Not the dull people you have guest posting when you're too damn  busy to write.
3.    Because there are NO dates… so how does one recognize when the post was written?   I mean, could you at least tell us who was in office?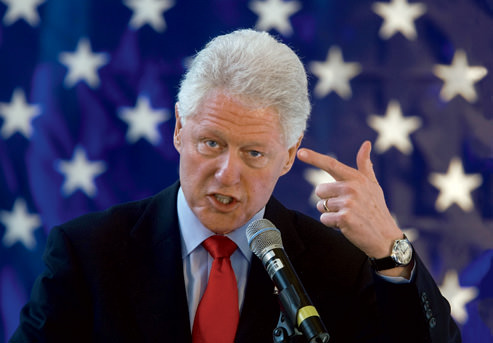 (I think Bill is kind of sexy.)
4.   Because you don't acknowledge me!   I'm HERE.  I'm commenting on your blog, you narcissistic ASS.  Why are you ignoring me ?
5.   Because you have creepy pop-ups that piss me off.   NO.  I don't appreciate when I'm  reading an oh-so-interesting article & then quite suddenly—A freaky Cow bursts upon the page.  Stop doing that.
6.   Because your environment is too black.  I can't find my way around in the dark.   Sorry.   When I enter black on black,  I never go back.
7.  Because you're not consistent with your posts.  Why should I wait for it?   Why should I remember you?   Give me one reason, Punk.
8.  Because  you do this !!!!!!!!!!!!!!! And this ………… And this  ???????
( 
Some Asshole 
Somebody I trusted and loved mentioned this to me and I stopped !!!!!!!!!!!)
9. Because you sell too many products & have too many givaways.  This is Annoying nice, because you end up with
many more readers than I do!         
—–
An Important Note
:     This blog was in fun.    Do not be offended.    I'm.   Not.    Talking.    About.  You.
If anything, I'm talking about ME………Some  imbeciles individuals have told me my blog was too mournful,  bitchy, personal & intense.   And I have one thing to say to them:
— Go to your Google search page & click the definition of:    "I Don't  Give A Damn."
     Readers, what peeves you?
Subscribe To My Inner Chick
Never miss an update!