~Humor is the affectionate communication of insight—Leo Rosten
Arrogant people who park in 2 parking spaces are the same people who go home after work and kick the dog.   Assholes.
Thelma & Louis were total idiots.  Why didn't they book that hotel room with Brad Pitt for at least a week before they committed suicide?
I despise when I clean out the litter box, spray it with Lysol, sprinkle it oh-so-sparsely with baking soda & then the cat decides to take a big shit.
When I saw that Snookie had a book out at Barnes &  Noble, my immediate reaction was "Well, this is truly the end of civilization as we know it."  Damn, the last book this chick read was probably "Green Eggs & Ham."
Don't you just hate when you're talking to someone who has a string of saliva dangling at the corner of their mouth?
Or how about when you observe a woman with a mustache…  I've thought…. "Don't you know you have a mustache?  Hasn't anybody told you?"  wtf.
My hands sweat when I walk into Target. 
Hell would be a place without poetry & lipstick.
Triple Hell would include reruns of Big Bang Theory blasting all day.
Eyebrows fascinate me.  Especially when women draw them on with charcoal- black pencil.  So-utterly Joan Crawfordy–Bette Davisy–Creepy.
The word "Tolerate" makes me cringe.  One may as well by exclaiming,
"Nope.  Don't like ya.  In fact, I can't stand ya.  But myself being the good humanitarian I am, I'll tolerate ya!"
I've realized when one eats an abundance of chocolate chip cookies, one's ass becomes abundant.
Why do the words Menopause & Menstruation have "Men" in them?   That is totally fucked up. 
If more than one mouse is "mice," then why isn't more than one goose "gice?"
Doesn't a gorgeous woman such as  Angelina Jolie royally piss you off?
Dear Gaga,   Madonna called…She wants her identity back.
Dear Casey Anthony,  Karma called….She's coming to get you.
Random Acts Of Kindness Day ticks me off.  Does that mean that one should be kind only one day out of the year?
Wouldn't you absolutely loooove to be best friends with Oprah?  Damn you, Gail.
Dear Kim,  Bridget Jones called… She wants her underwear back!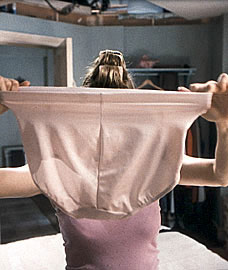 —Readers, do you have a random insight or goofy thought you want to share?
Subscribe To My Inner Chick
Never miss an update!