"White … is not a mere absence of colour; it is a shining and affirmative thing, as fierce as red, as definite as black…. God paints in many colours; but He never paints so gorgeously, I had almost said so gaudily, as when He paints in white."
—Gilbert Keith Chesterton [British author, 1874–1936] 
White Coconut Cake
2 cups cake flour
2 teaspoons baking powder
1/2 teaspoon fine sea salt
1/2 cup (1 stick) unsalted butter, softened
1 cup granulated sugar
3 eggs, room temperature
1 teaspoons vanilla
3/4 cup milk*
late For A Date, Mate!
Lemon curd, lime curd, raspberry jam, or blackberry jam for filling
Whipped cream or cream cheese icing
3 cups coconut, shredded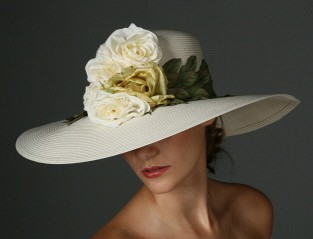 Move Your Bloomin' Aaass!
 Preheat oven to 350 degrees. Grease and flour two 9″ round cake pans; line bottom of pans with parchment.
So Sensationally Sixties!
Sift flour, baking powder, and salt together; set aside. Put butter in a medium sized bowl and beat with an electric mixer until creamy. Gradually add sugar and continue beating until light and fluffy, scraping down butter as needed. Add eggs one at a time, mixing just until blended. Add vanilla. Add the flour mixture in 3 additions, alternating with milk in 2 additions; mix thoroughly.
 Marvelous  Marshmallow Bag!
Pour batter into prepared pans and bake 20 to 25 minutes or until a cake tester comes out clean. Allow layers to cool in pans for 10 to 20 minutes. Run a butter knife or flat metal spatula around edge of pans and turn layers onto a wire rack to cool completely.
Jackie O Pearls!
Kool  Kenyan Kat!
Whipped Cream Icing
2 cups whipping cream
¼ cup powdered sugar
1 teaspoon vanilla extract
Beat cream and powdered sugar together until stiff peaks form. Gently fold in vanilla extract.
Wintery White Polish!
Cream Cheese Icing
2 (8 ounce) packages cream cheese, softened
1/2 cup butter, softened
2 cups sifted powdered sugar
1 teaspoon vanilla extract
 The Original White Swan, Anna Pavlova!
Beat cream cheese and butter together until creamy. Mix in the vanilla, and then gradually stir in the powdered sugar.
White Chocolate Martini with Hanging Cherry!
 Luxurious Lovely Sin! 
To Assemble Cake
Place first cake layer on serving plate or cake board. Spread top with filling and place second layer on top. Frost with either whipped cream or cream cheese icing. Sprinkle sides and top with shredded coconut. Press coconut gently to adhere to cake.
And Enjoy, My Dahhhhlings!   
Cool Info About The Original Swan:  Anna Pavlova Biography – life, story, death, school, mother, young …
How to make a Chocolate Martini:   Godiva Chocolate Martini recipe
Subscribe To My Inner Chick
Never miss an update!